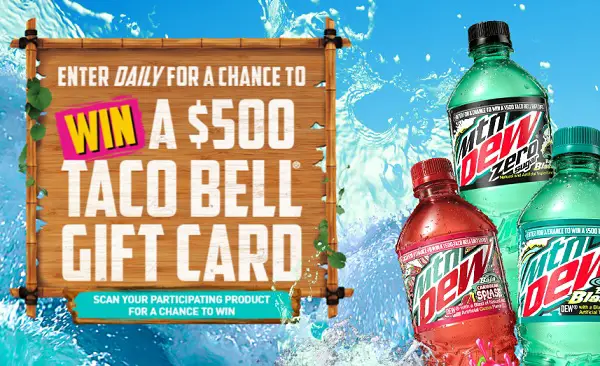 For a chance to win a $500 Taco Bell gift card every day, enter the Summer of Baja Blast Sweepstakes 2023 (also known as the Summer of Mtn Dew Baja Blast Sweepstakes) at summerofbajablast.com.
Baja Blast Summer Sweepstakes
Last Day to Enter: 11:59 p.m. ET on September 9, 2023.
How To Enter:
Make A Purchase: Visit https://www.summerofbajablast.com from your computer or mobile device during the sweepstakes period, and then adhere to the online instructions to scan your Qualifying Product. You will be asked to enter information and create an account (or log in for further visits). Each participant must confirm their account by sending a confirmation email in order to create an account for the sweepstakes. Before any entry will be taken into consideration, this stage must be finished.
NO PURCHASE NECESSARY: Without making a purchase, send a 3″ x 5″ index card or piece of paper with your first and last name, complete mailing address (no PO Boxes), date of birth, and email address to Summer of Baja Blast Sweepstakes Entry, PO Box 130, Dept. 23-8108-01, Glencoe, MN 55336-0130. Your entry will be processed upon receipt.
How to Enter Dairy Queen All-Star Sweepstakes
Candidates should go to summerofbajablast.com
Submit their entries before the deadline.
Prizes Details:
Winner: The prize for the winner will be the following:
Every day, one of the five hundred four (504) lucky winners will be given a $500 Taco Bell gift card.
You might also be interested in the following:
Join us for more exciting sweepstakes.
I hope you liked this post and got all the information about Baja Blast Summer Sweepstakes. Enjoy your winnings and Best of luck.
Disclaimer: The content on this website is provided solely for general information purposes. Sweepstakes Value provides the information, and while we strive to keep the information up to date and correct, we make no express or implied representations or warranties of any kind, express or implied, about the website or the information, products, services, or related graphics contained on the website for any purpose. Any reliance on such information is thus entirely at your own risk.